| | |
| --- | --- |
| Posted on 31 December, 2019 at 0:30 | |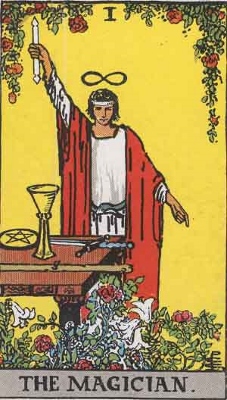 I want to share how my current view and use of the Tarot. It has significantly clarified since working full-time with the cards over last few years. Submitting exercises and writing reflective pieces like this have sharpened my understanding. Again this is my approach only, and I am not recommending my take for anyone else.
My readings have two driving desires for seekers - spiritual growth (from the Majors) and diagnosis and healing (from the Minors). Like most of us I have always seen a difference between Majors and Minors but now they are more differentiated than previously.
The Majors are essentially my oracle deck. Each card makes a call to seekers to move forward on their spiritual journey. For example, The Devil is a call to 'break free' from recalcitrant material obsessions and desires. Don't get me wrong these are really tough demands and seekers need to know that they will have a series of successes and failures. That's life.
I emphasise diagnosis and healing with the Minors. I also treat the Courts and Pips differently. Unlike many others I see the Courts as a call to emulate the best qualities of the suit, such as steadfastness of the Pentacles, loving & compassion of the Cups, and acuity of Swords. The cards - Pages to Kings - emphasise these qualities in different ways. The Pips represent different phases of the current cycle of development in a particular aspect of a seeker's life. These cards offer reflections for diagnosis and healing. Again they highlight difficult areas for a seeker to face.
I should mention that my reversals are internalised versions of the uprights.
Categories: Tarot Lessons