| | |
| --- | --- |
| Posted on 27 September, 2019 at 3:05 | |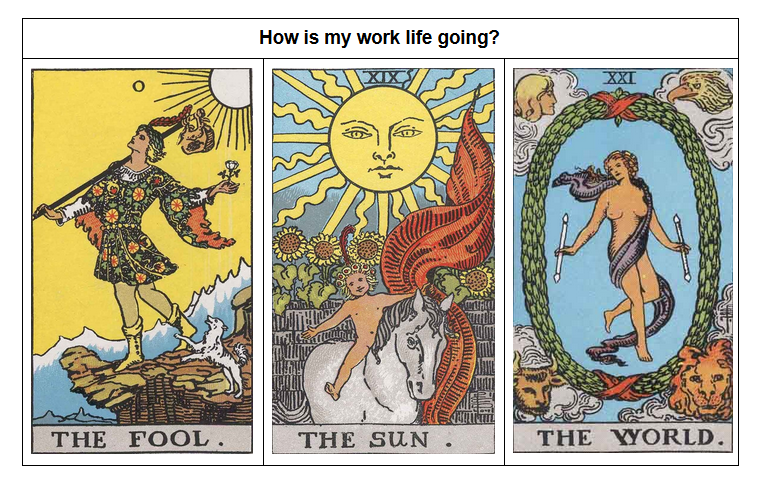 Disclaimer
Treat this reading as worthwhile and useful Entertainment Only and seek local professional advice for legal, financial, psychological, medical, and relationship issues. While reading the interpretation and advice, please remember you have control of and responsibility for your actions.
Purpose of the Reading
This reading is to encourage insightful reflection on your situation. Hopefully you 'see' things that otherwise would be hidden. The reading makes no special attempt to predict future events, as you are the one to take charge of life.
"Your journey is completely yours. It is unique. Others may try to steal part of it, tell it in their words or shape it to suit them. Reality is no one can live it or own it but you. Take charge of your journey, it's yours and yours alone!" Kemi Sogunle
My Evaluation - Work
The cards, randomly selected, are from the Major Arcana, which usually refer to larger forces affecting our lives rather specific day-to-day events.
I read the cards as emphasising the spiritual side of your life even in a work environment, in particular spiritual growth and exploration. The card, The Fool, brings with it a sense of open-minded adventure with some risk-taking (need to move out of our comfort zones). The dog in the image reminds though to set limits as we are still part of a physical world with needs and responsibilities. A warning though is to stay grounded with your work needs. However overall you need to see work life as growth opportunities rather than just a series of tasks.
The Sun adds and exciting element of success as you embark on the journey. It suggests a real joy in extending yourself spiritually. Therefore activities such as mindfulness, meditation, quiet reflection, walking (unwired) in the country would all contribute to a joyous expansion of your being.
Finally the World suggests evry chance to completing this cycle of your life successfully for the next cycle.
I'm not underestimating the commitment required to make significant life changes. It requires time and energy, which often feel that we do not have. This is where a trusted friend or companion can help to support your quest.
(Fool - Ecstasy; Sun - Well-being; World - Fulfillment)
By Alex McCullie
Useful Background Information
Reading Theme
Engage in activites to enhance the spiritual side of your life. Seek awareness of higher values. And expect a joyous juorney of exploration.
Moral Message
See more to life than physical existence.
Useful Questions for Reflection
What would I do if I felt free to take a leap?
How willing am I to be vulnerable and open?
How might past experiences help in this new situation?
How can I take best advantage of the attention coming my way?
What are my highest spiritual goals?
How can I avoid being bedazzled by the energy swirling around me?
* How aware am I of my own connectedness to the world around me?
* What keeps me from having it all right now, today?
Useful Sources
Huson, P. (2004) Mystical Origins of the Tarot, Rochester, Vermont, Destiny Books
Waite, A. E. (1971) The Pictorial Key of the Tarot, Stamford, CT US Games System Inc
MacGregor Mathers, S.L. (1969) The Tarot, York Beach, Maine, Samuel Weiser, Inc
Cicero, C. and Cicero, S. T. (2003) The Essential Golden Dawn,T. Paul, Minnesota
McElroy, M. A. (2014) Guide to Tarot Card Meanings, TarotTools.com Publishing
Lerrner, I. and Lerner, M. (2002) Inner Child Cards, Rochester, Vermont, Bear & Company
Tyson, D. (2004) 1-2-3 Tarot, St. Paul, Minnesota, Llewellyn Publications
 
 
 
Categories: Free readings