| | |
| --- | --- |
| Posted on 23 August, 2019 at 3:35 | |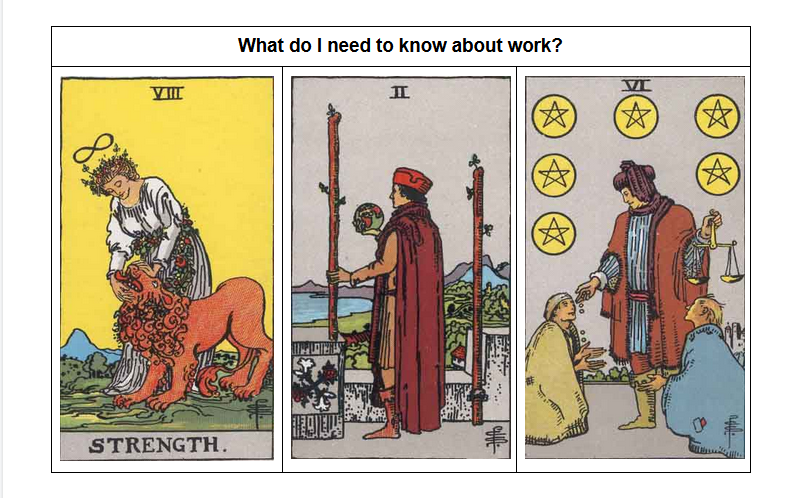 Disclaimer
Treat this reading as worthwhile and useful Entertainment Only and seek local professional advice for legal, financial, psychological, medical, and relationship issues. While reading the interpretation and advice, please remember you have control of and responsibility for your actions.
Purpose of the Reading
This reading is to encourage insightful reflection on your situation. Hopefully you 'see' things that otherwise would be hidden. The reading makes no special attempt to predict future events, as you are the one to take charge of life.
"Your journey is completely yours. It is unique. Others may try to steal part of it, tell it in their words or shape it to suit them. Reality is no one can live it or own it but you. Take charge of your journey, it's yours and yours alone!" Kemi Sogunle
Interpretation of the Tarot cards
This reading is about your courage and inner strength and your capacity to control unwanted emotions and maintaining a purity of purpose. The Strength card is a powerful and welcomed card in any reading, as it shows the true nature of courage as coming from within rather than focusing on acts of bravery. With this courage you can critically assess your attainments at work that may have lead to earlier feelings of unsatisfied ambitions. Even though dissatisfaction that more could be achieved is common for many folks, the cards suggest you have the strength of character to look at these head-on and decide the best way forward to achieve your goals. The Six of Pentacles brings the idea of selectivity to this reading.
I interpret that to mean that you should narrow down the 'work to be done' to those work areas that give you the biggest return for effort - the so-called 'low hanging fruit'. So, in summary, critically review your work performance to date; identify those aspects you are not happy with; and, finally, work on 'what should I do' where you'll make the most impact. Others will notice your improvements and you'll find that subsequent changes will become much easier. Those initial steps are very difficult and will call upon the courage shown in this reading.
This is a very powerful and positive reading.
(Strength - courage; Two of Wands - boldness; Six of Pentacles - authority and selectivity)
By Alex McCullie
Useful Background Information
Reading Theme(s)
Use your courage and inner strength to critically examine your work to make worthwhile improvements. These will build your success.
Moral Message(s)
Be strong in building momentum at work from previous lessons. Do not be dissuaded from your mission.
Useful Questions for Reflection
How can I enhance my self-discipline?
What behaviors tempt me? How can I resist?
What instincts do I continue to struggle with today?
Useful Sources
Huson, P. (2004) Mystical Origins of the Tarot, Rochester, Vermont, Destiny Books
Waite, A. E. (1971) The Pictorial Key of the Tarot, Stamford, CT US Games System Inc
MacGregor Mathers, S.L. (1969) The Tarot, York Beach, Maine, Samuel Weiser, Inc
Cicero, C. and Cicero, S. T. (2003) The Essential Golden Dawn,T. Paul, Minnesota
McElroy, M. A. (2014) Guide to Tarot Card Meanings, TarotTools.com Publishing
Lerrner, I. and Lerner, M. (2002) Inner Child Cards, Rochester, Vermont, Bear & Company
Tyson, D. (2004) 1-2-3 Tarot, St. Paul, Minnesota, Llewellyn Publications
Categories: Free readings