Shopping Cart
Your Cart is Empty
There was an error with PayPal
Click here to try again
Thank you for your business!
You should be receiving an order confirmation from Paypal shortly.
Exit Shopping Cart
On-line Tarot Readings for
Well-Being and Spiritual Growth
2 for 1

Reading offer

COMING

SOON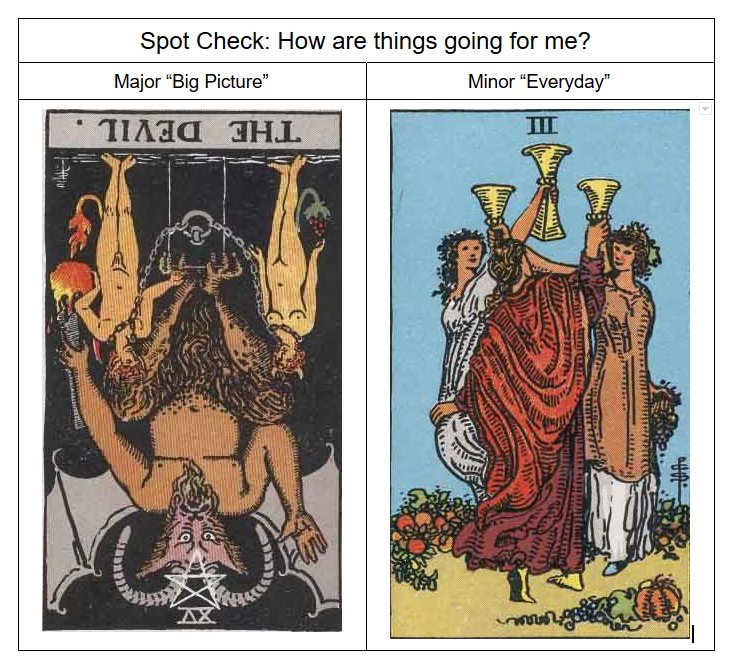 "buckle your seat belt Dorothy, because Kansas is going bye-bye"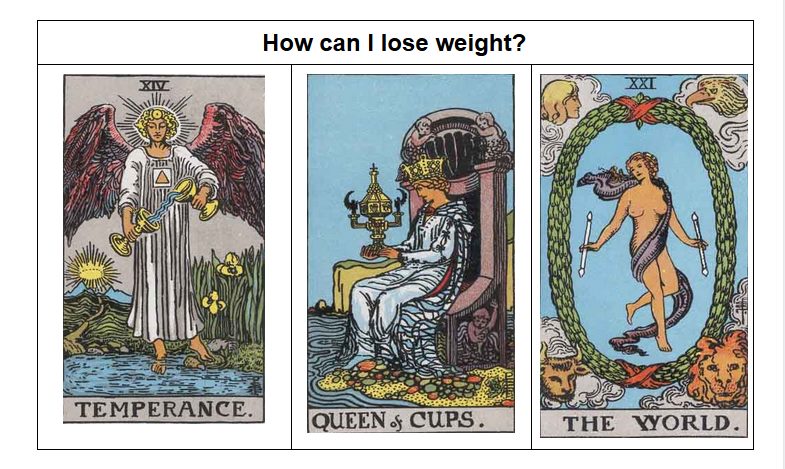 Interpretation
The message from the Tarot is: "Eat the correct balance between two desires of pleasure and health (Temperance) without exception (Queen of Cups) and with a determination to complete your plans (The World)."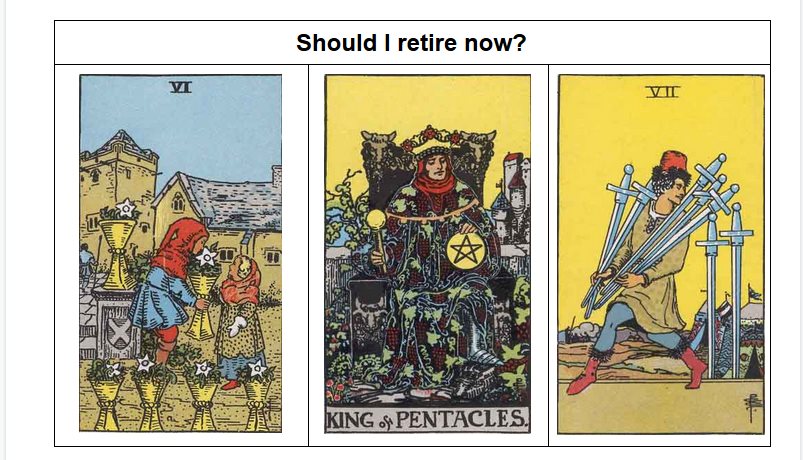 My Interpretation
The cards seem to clear suggest a clear 'yes', this is the time to retire, if financially able. My reading of the cards is:
"In this situation the seeker, wanting personal enjoyment and satisfaction (Six of Cups), has to labour through exhausting work routines (King of Pentacles), which weaken his resolve to continue (Seven of Swords)." In other words, if the cards represent his situation, then work is no longer doing for him.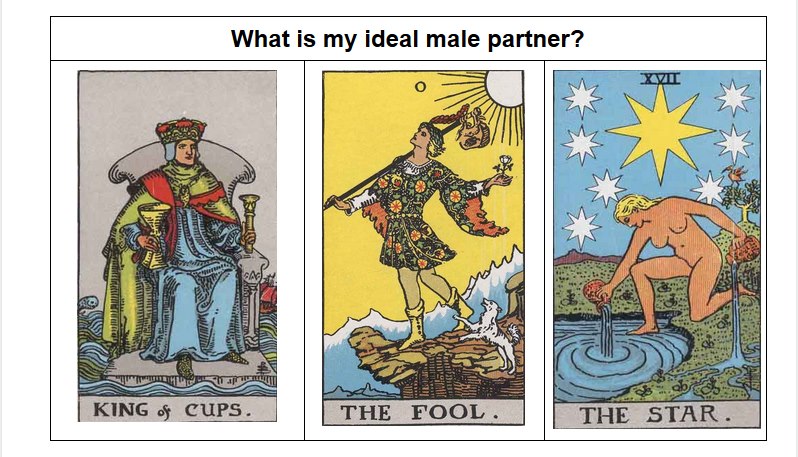 Question to the Tarot
Exercise: a male seeker wants to start a new relationship and has come to you for advice on an ideal male partner for him. What message do you read from the cards?
My Interpretation
My 'raw' reading is: "Amiable man, driven by excitement, lives life as a waking dream with 'world half full' or optimistic approach to life." This is a person who wants to live life to the full with high levels of optimism (the universe we treat me right).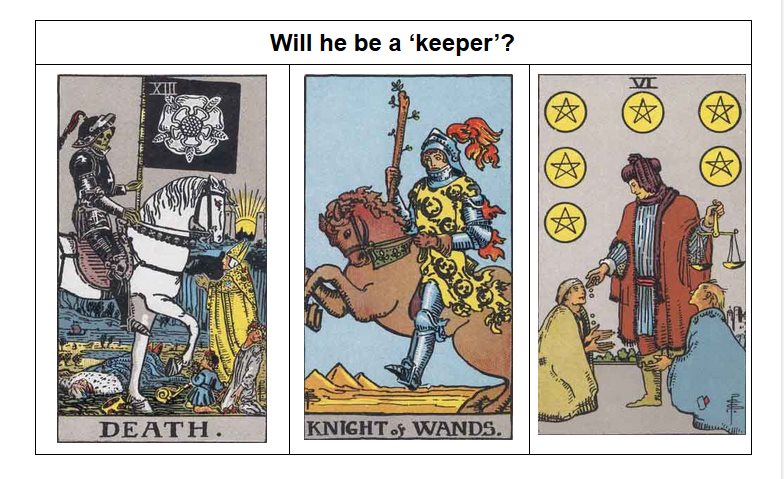 Question for Tarot
Exercise: a seeker approaches to ask if her new boyfriend, who she likes very much, will be a 'keeper' ('one suitable for or worth keeping')?
Interpretation
A mixed reading for me: "The relationship, new and bold into the unknown, embarks on a just and true course together with affections or favours being given or withheld selectively." I would want to explore the selectivity more in real reading.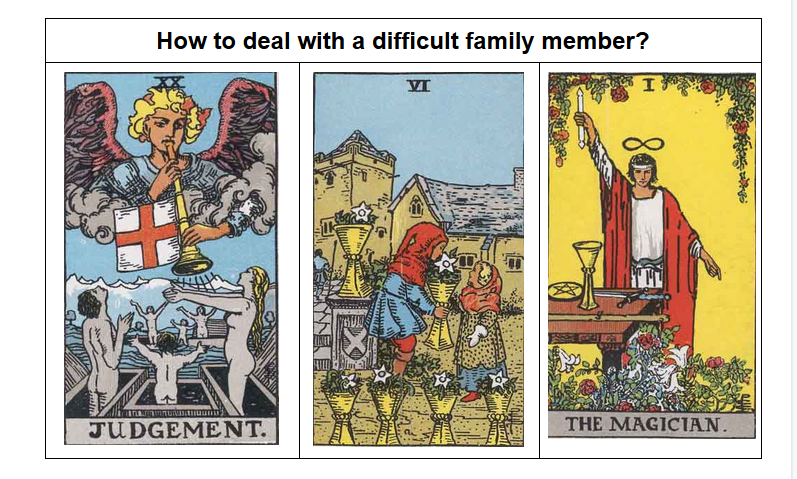 Question for the Tarot
Exercise: a female friend asks for advice on dealing with a difficult family member. He's an uncle who often causes arguments a family gatherings with his belligerent attitudes about social issues, such as the 'proper' role of women. What message do you read from this cards?
My Interpretation

My card message is: "Rekindling of a higher calling creates a period of deserved contentment so to harmoniously fulfill a great task." I take that to mean a need to lovingly enlighten him to the fulfillment and happiness of being a much-loved uncle. May sound 'pie in the sky' this seems the Tarot advice on the way forward - a difficult but worthy path.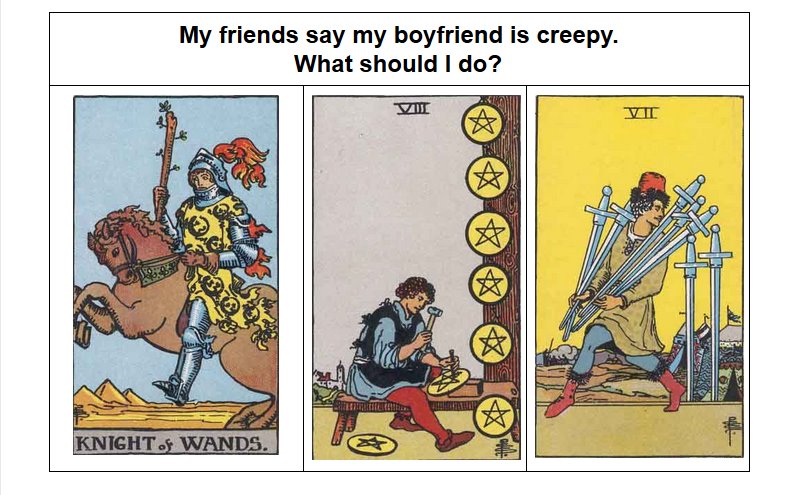 I read the cards as the seeker seeing her boyfriend, seemingly youthful, impulsive, and even opinionated (KnW), as someone who diligently prepares for the work ahead (8P). However, surprisingly and disappointedly, then he doesn't persevere to turn this into any real action, being undermined by his self-doubts (7S).
If this then resonates it sounds the seeker is more disappointed by her boyfriend rather than seeing anything particularly dangerous.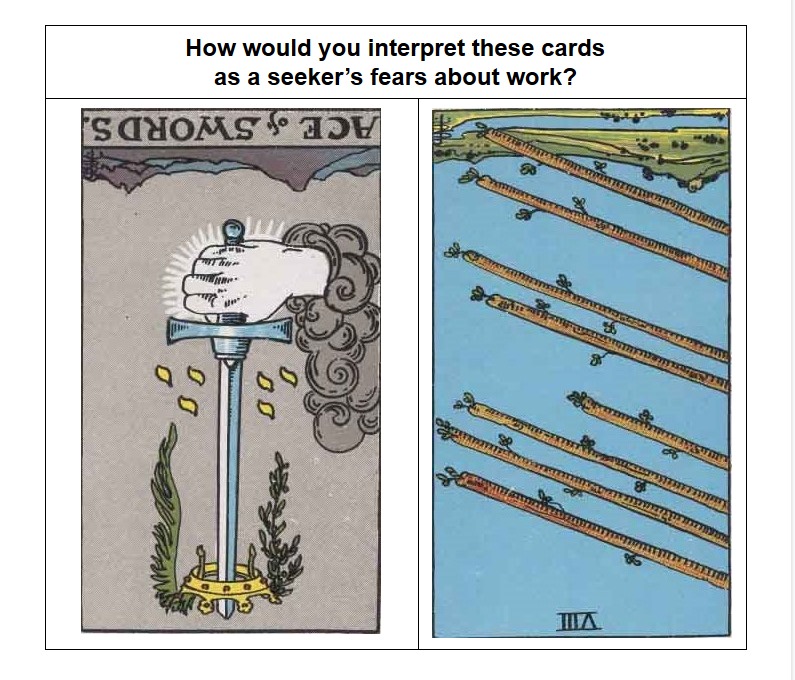 From the cards I read the fear is that angry work colleagues, ignoring natural fairness, (1S-R) will attempt to take more than their entitlements, which will create an environment of hostility and mistrust (8W-R). It will take more discussion to explore that anger and so on.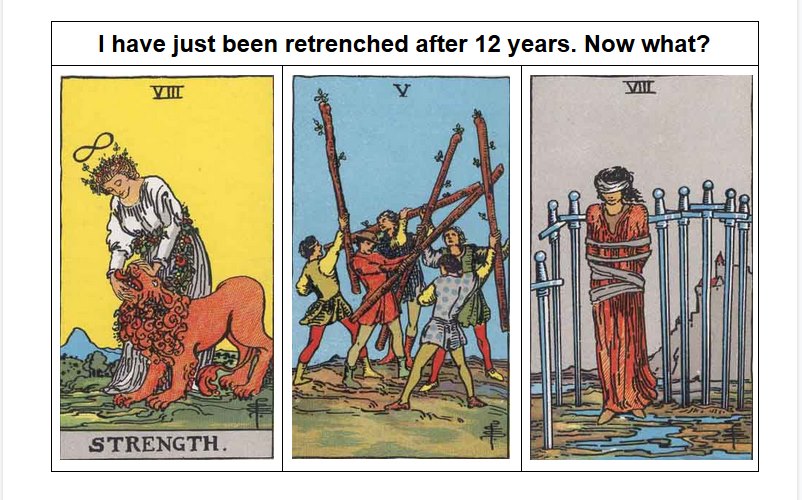 I read this as: "The seeker, always strong in his convictions about doing the right thing (Strength), would oppose anything that stood in his way (5W). The shock of retrenchment and blow to his self-esteem has distracted, hopefully temporarily, from the things that are important (8S)." In other words, he needs to renew his traditional strength and courage; assess his true value in skills and work ethic; seeking assistance (may be difficult for him); and apply for positions. He needs to know that rejections, which should be seen as challenges to learn from rather than obstacles. Questions I'd give him:
 
* What behaviors tempt me? How can I resist?
* What instincts do I continue to struggle with?
* What, exactly, are the obstacles? What resources, exactly, are needed to move them?
* To what extent is your current powerlessness a matter of attitude?
imagine a seeker has asked for advice on where to hold the birthday party of their 16 year-old daughter with 100+ teenagers. Should it be at home or off-site?
I read these cards as saying that the seeker, wanting guarded solitude and mental ease only (4S), will unwaveringly get her own way (3W) by any means necessary including trickery and quarrelling (5W-R). In other words too much "me" to hold a long-term relationship.

/